eGuider Exclusive — March 10th, 2009

10 Most Useful iPhone Apps for Online Video
by Chris Koseluk
Are you among the many these days just iPhoning it in? Well, who can blame you? If the device could cook, it would cover just about every need imaginable. And with more and more apps hitting the street daily, its video capabilities are reaching new heights. So, in an effort to help keep up with these advances, here are a few suggestions for its 10 most useful online video apps. And, best of all, most of them are free!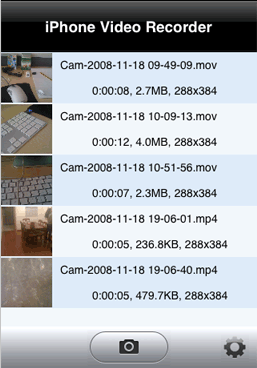 iPhone Video Recorder
($19.95 - www.iphonevideorecorder.com)
The title says it all. With this app from DreamCatcher, your iPhone can capture real time mov recording at up to 15 fps. The footage is compressed into an mpeg4 format, so it's possible to shoot up to an hour of high quality images and end up with a file as small as 60MB. How long before we see the first iPhone film festival?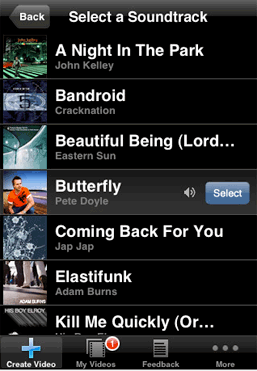 Animoto
(free - iTunes)
Have an urge to tap into your inner music video director? Now you can do so without leaving the comfort of your iPhone. Select some of the images you've been storing up, combine them with one of Animoto's built-in soundtracks, and in the time it takes to watch a music video, your photos are magically blended into a lyrical, visual treat. Ordinary slideshows, your days are numbered.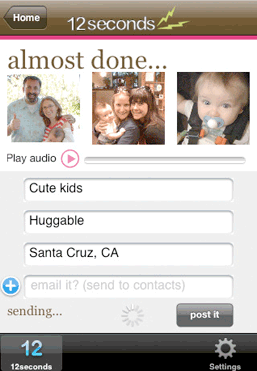 12seconds
(free - iTunes)
For the legion of the Twitter-obsessed who don't have the patience for either the iPhone video recorder or Animoto, we offer 12 Seconds. Pick three of your iPhone photos, add 12 seconds of audio and you have a Twitter post that not only tells everyone what you're doing, it shows them. The effort can also be uploaded to Facebook, MySpace, your blog or emailed to anyone deserving.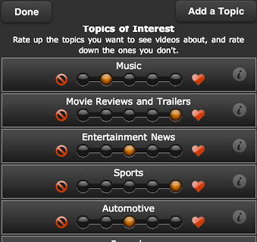 Poptiq
($3.99 - iTunes)
For those times when there is no WiFi, there's Poptiq. This Metranome's app learns your video likes and dislikes, so that when you've got a connection, it's busy at work downloading and storing clips. Then, when the time is right, you can enjoy its efforts, whether you've got Internet or not.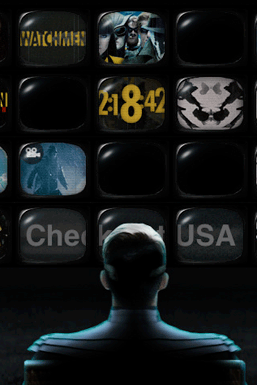 Watchmen
(free - iTunes)
Welcome to the future of movie marketing. This Warner Bros.' app puts the world of the "Watchmen" movie at your fingertips, including film trailers, behind-the-scenes video journals from director Zack Snyder, and motion comics. Coming soon is a Rorschach Ink-Blot Manipulator. What more could a fanboy ask for?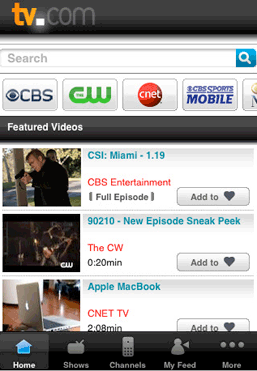 TV.com
(free - iTunes)
You're going about your daily business and suddenly you start jonzing for a taste of "CSI" or "The Big Bang Theory." Well, crave no more. CBS Interactive has an app that will stream its content right to your iPhone. Along with full episodes of some of your favorite CBS shows, TV.com offers clips, interviews and promos, including selects of news, sports, radio, Showtime, Cnet and The CW. Gossip Girl, you cannot escape me.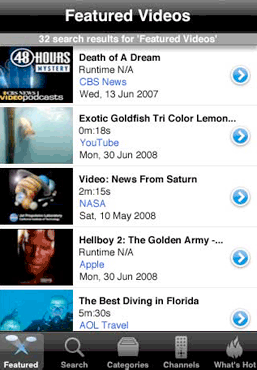 Truveo Video Search
(free - iTunes)
There's a good change you may already have downloaded this AOL app that lets you locate a video either through a word search, by browsing its basic news, sports and music categories, or checking out its Featured Tab, where it spotlights a list of view-worthy videos. But knowing the value of a good video search engine, we wanted to make sure one was included on the list.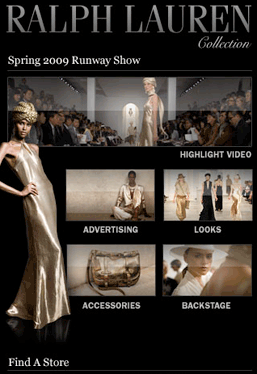 Ralph Lauren Collection
(free - iTunes)
Your phone is on the cutting edge of style, shouldn't your wardrobe be, too? Ralph Lauren certainly thinks so, and is doing something about it with this app that features video highlights from the Spring 2009 Runway Show. Also included are a Lookbook with pinch-and-zoom, accessories gallery, advertising gallery and a Worldwide Store Locator. All you need are your fingers to "make it work!"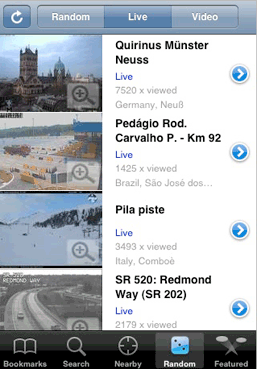 WorldView Live
($2.99 - iTunes)
"I've got the world on a string," so the old song goes. Well, how about the world on your iPhone? You'll have access to over 8000 webcams worldwide with this app from Andreas Linde. And best of all, it's instant access, including live streams from 40 different sites. Boldly go where no iPhone has gone before.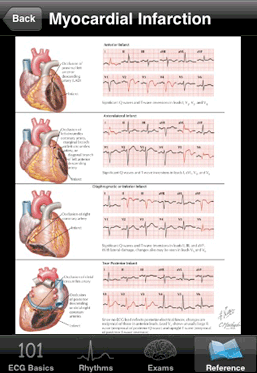 Instant ECG: An Electrocardiogram Interpretation Guide
($4.99 - iTunes)
All these new and exciting iPhone apps have your heart racing a little too fast? No need to worry. Simply download this app from iAnesthesia LLC and you'll be able to bypass hours of med school and learn all there is to know about this basic medical test. Among its many features are 30 full screen movies of the most common arrhythmias, over 90 high resolution ECG examples, and a 140-plus questionnaire to test your Electrocardiogram knowledge. I feel better already.
---

Contributor: Chris Koseluk

Chris Koseluk is a freelance writer whose work has appeared in The Hollywood Reporter, Video Business and Movie Times Magazine. Two of his favorite Internet things are video clips and games. Having written about the entertainment industry for over 15 years, Chris tries to keeps it real on his website www.mediamischief.com.
blog comments powered by Disqus